Astazi aș vrea să cunoașteți pe cineva foarte special. Pe cineva care o să vă pătrundă în inimă și în minte și care vă poate schimba viața. Numele ei este Luana (Ana-Lucia). Are aceași vârstă cu mine. Înafara de anul nașterii împărțim și un sistem de valori similar, guvernat în top de ideea "iubirea este cea mai puternică armă și forță din Univers".
Luana a schimbat viața multor ființe. A MULTOR ființe. Aici mi-ar da lecții. Multora ne-ar da. Pe mine m-au ajuns 2 ani de voluntariat pentru protecția animalelor și 6 luni pentru drepturile copiilor. M-au consumat sufletește prea tare și m-am retras în zona mea de confort unde mă confrunt cu doar 20-30% din umbrele cu care aveam de-a face când făceam voluntariat într-un sistem organizat. Pe ea nu a oprit-o nimic. Sute de animăluțe fără nicio șansă, abandonate și lovite,  îmbolnăvite de indiferența și cruzimea semenilor noștri, se află acum, sănătoase și fericite,în cămine iubitoare (din întreaga lume). Sau zboară libere în mediul lor natural. Sau aleargă pe câmpuri înverzite. (Vă amintiți cazul Cailor sălbatici de la Letea? Ei bine, Luana a fost unul din oamenii minunați care au luat atitudine.)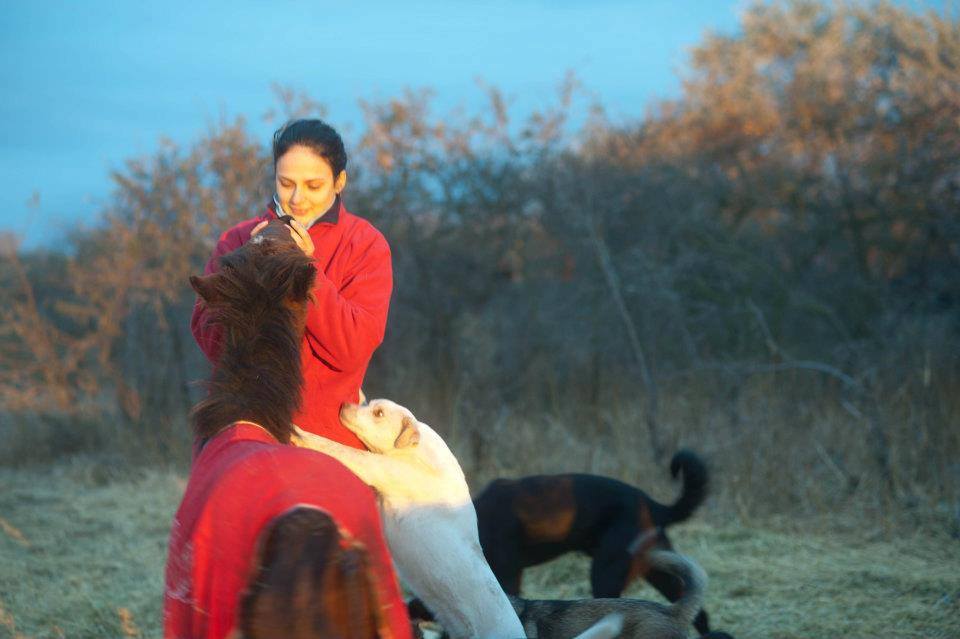 Dacă ar fi o culoare prin care să o descriu pe Luana aceea ar fi VERDE. Îmi imaginez că dacă aș scrie un scenariu de film fantasy și Luana ar fi un super-erou, ar avea abilitatea de a da viața și ar avea un costum VERDE. La fel ca mine, Luana iubește natura și conexiunea noastră cu ea și crede e important să o îngrijim, să plantăm nu să defrișăm, să protejăm. Dacă nu înțelegeți exact gravitatea poluării continue și a reducerii spațiilor verzi și a industrializării accentuate, o sa vă rog să faceți exercițiul de imaginație pe care eu îl fac de fiecare dată când plec la drum lung, în vacanță: priviți pădurile/dealurile/câmpiile de pe stânga și dreapta drumului și în timp ce zâmbiți grație frumuseții lor, imaginați-vă că nu mai sunt. Că e totul ars, absent, pustiit. În acel moment or să vă doară gunoaiele aruncate casual pe spațiile verzi, apa irosită în exces sau tăcerea pe acest subiect. Luana nu a tăcut niciodată când a venit vorba de asta.
Luana È™i-a urmat sistemul de valori È™i în viaÈ›a profesională È™i a devenit medic veterinar. Astfel a putut îngriji È™i mai bine sufletele vulnerabile È™i în nevoie. Nici nu mai are sens să menÈ›ionez de numeroasele ore de voluntariat pe care le-a făcut în campaniile de sterilizare gratuită, prevenind astfel probabil sute/mii de poveÈ™ti cu potenÈ›ial de final trist. (VedeÈ›i? Sunt optimistă. Am spus doar "potenÈ›ial final trist"…). Luana a muncit mult să își deschidă propriul cabinet medical, ca să își ducă misiunea la un nou nivel. Apoi totul s-a oprit pentru ea.
Acum ceva zile făceam un apel pe FB prin care vă rugam să mă credeÈ›i pe cuvânt că Pământul e în pericol de a deveni mai sărac È™i să donaÈ›i pentru Luana sau să daÈ›i mai departe povestea despre strângerea de fonduri. Un accident de neînÈ›eles (sigur, are o explicaÈ›ie logică, fizică… dar rămâne de neînÈ›eles motivul pentru care Universul a permis să se întâmple aÈ™a ceva) a făcut ca Luana să ajungă în spital cu arsuri de gradul 2 È™i 3 pe 90% din corp. Când am aflat, am rămas paralizată. Din multe motive. Era un om pe care îl cunoÈ™team. Cu care am salvat la un moment dat animale, pe care l-am admirat profund. Paralizia mea a fost catalizată de faptul că raÈ›ionam perfect ce înseamnă evaluarea de mai sus: sub 1% È™anse de supravieÈ›uire. Dar Luana a stabilit mereu limite noi, aÈ™adar a făcut-o È™i acum. A mai trăit 10 zile, dându-ne măcar È™ansa de a ne ruga pentru ea, de a spera, de a lupta aÈ™a cum ea a facut-o pentru noi atâția ani. Da, pentru noi toÈ›i. Când tot ceea ce faci e cu scopul de a crea un Univers mai bun, se cheamă că lupÈ›i pentru toÈ›i.
Povestea ei și toate gândurile noastre către ea au pus în mișcare rotițe de care uitasem că există. Oameni de pe întreg Globul s-au mobilizat și au dat mai departe povestea ei, au oferit familiei și prietenilor simpatia, rugăciunile și cele mai calde cuvinte de care s-au simțit în stare. Oameni din întreaga lume au fost atinși de sistemul ei de valori și au devenit puțin mai buni, mai empatici. Au avut șansa de a face ceva. De a lua atitudine. Chiar și înainte de a pleca de aici, Luana ne-a mai oferit o lecție căci Doamne, câți oameni au luat atitudine! Cineva a scris atât de frumos: "if you could have been saved by our love, you would have lived forever" ("Dacă iubirea noastră te-ar fi putut salva, ai fi trăit pentru eternitate"). Într-o anume formă acest lucru se întâmplă, însă.
Luana nu a vrut să lase Pământul mai sărac, aÈ™a cum am spus eu că se va întâmpla. Motiv pentru care È™i-a împrăștiat energia È™i a lăsat ceva din ea în fiecare din noi, cei atinÈ™i de povestea ei. Visele ei rămân cu noi. Iar noi le vom duce mai departe. De exemplu, unul din ele era să planteze mulÈ›i copăcei. Ca atare, în memoria ei, s-a lansat un apel ca fiecare să planteze un copăcel. Dacă aÈ›i È™ti ce ecou a avut acest apel!… De anul acesta vor fi copăcei "Luana" în România, India, Marea Britanie, Germania, Norvegia, Canada, Cambodgia… peste tot! Dacă nu mă credeÈ›i, o să vă rog să vă convingeÈ›i singuri pe pagina aceasta.
După cum vă povesteam acum câteva săptămâni, talentul meu de grădinărit e cam nul. Dar am vrut să fiu acolo pentru acest vis. Motiv pentru care am căutat soluții. Astfel am ajuns să aflu despre inițiativa Mai Mult Verde, care oferă șansa de a face cadou copăcei. Pentru fiecare 10 lei donați se cumpără un puiet. Puieții sunt plantați toamna și primăvara, poți participa la acțiunea de plantare și vei fi ținut la curent cu evoluția celor achiziționați de tine. E minunat că există astfel de inițiative! Le-am și scris celor de la Mai Mult Verde despre Luana și ei au promis că vor avea grijă să planteze la un loc toți puieții care se vor strânge pentru ea. Sper să facem o pădure întreagă! Dacă vreți și voi să contribuiți la această inițiativă, mi-ați face o mare bucurie. Fie în grădina voastră, în parcul de lângă casă sau donând pentru achiziționarea de puieți, folosindu-vă de acest formular.
Luana nu mai este de acum medicul veterinar de 27 de ani, cu zâmbet molipsitor È™i energie care mută munÈ›ii. Luana este de acum un simbol, o idee. Iar aÈ™a cum spune unul din filmele mele preferate… "ideas are bullet proof". Oricât de opresiv e sistemul, oricât de multă nedreptate există, oricât de multe sunt în pericol, oricât de injust ni se pare totul, se naÈ™te din când în când un om ca Luana care ne arată că în noi există bine, lumină È™i putere, că noi uniÈ›i putem schimba Pâmântul în locul "mai bun" despre care prea des doar vorbim.
Drum lin, fată frumoasă!… MulÈ›umesc pentru tot.
———————————————————————————————–
EN
Today I'd like you to meet someone very special. It's someone who will get inside your heart and mind and has the ability to change your life. Her name is Luana (Ana-Lucia). It has the same age as I do. Besides the birth year we share similar values , values which have as the most important idea this one: "love is the most powerful weapon and force in the Universe."
Luana has changed the lives of many living beings. SO MANY! She can give me lessons regarding this matter. She can give lessons to many of us. For me, two years volunteering for animal's protection and 6 months for children's rights were too much. They consumed me and hurt my soul making me retreat to my comfort zone where I deal with only 20-30% of the shadows that I had to face when I was volunteering in an organized system. Luana wasn't stopped by anything! Hundreds of animals without chances, abandoned and hit, diseased by the indifference and cruelty of our fellow men, are now healthy and happy in loving homes (all around the world). Some of them are flying free in the wild. Others are running on green fields. (Remember Letea wild horses? Well, Luana was one of the wonderful people who took a stand.)
If I would describe Luana through a color, that color would be GREEN. If I would write a fantasy movie script and Luana would be a super-hero, she would have the ability to give life and would have a green suit. Just like me, Luana loves nature and the connection we share with it, she believes it's important to care, to plant not to clear the woods, that it's vital to protect our natural environment. If you can't understand the disaster that pollution,  and reduce green spaces and emphasized industrialization has on this Planet, I ask you to do a simple imagination exercise, one I do every time I am on a long trip: watch the forest / hills /plains in the left and right of the road and while smiling at their beauty, imagine them no more. Imagine them burned, absent, abandoned. Then it will hurt you: all the trash thrown casually in the green spaces, the water wasted in excess and the silence on this subject. Luana was never silent in matters like this!
Luana was true to her system of values 'till the end and she became a veterinarian. Like this she could have been even closer to the vulnerable and needy souls. It seems so pointless to mention about the many volunteered hours for the free sterilization campaigns that she made, because that was just on her basic "to do good" list. She prevented many sad stories. Luana worked hard to open her own medical practice, thinking that like this she will take her mission to a next level. Then it was over.
A few days ago I was asking you on FB to believe me when I say that the Earth is in danger of becoming poorer and begged you to donate for Luana or help us share her story and the fundraising campaign. An incomprehensible accident (sure, it has a logical explanation … but it remains incomprehensible why the Universe has allowed this to happen) put Luana in the hospital with 2nd and 3rd degree burns on 90% of body . When I found out, I was paralyzed. Because of many reasons. She was a girl I knew. We were not close friends, but over the years we met in 2 or 3 cases of animal rescue. It's a very strange feeling when you find out something like this about someone you've crossed your path with. Even If only for a minute. My paralysis was catalyzed by the fact that I knew exactly what the above assessment meant: less than 1% chance of survival. But Luana always knew hot to set new boundaries, and she was about to set some new. She lived 10 days, giving us a chance to pray for her, to hope, to fight as she did for us so many years. Yes, she fought for all of us. When everything you do is in order to create a better Universe, you can call that a faith for humanity.
Her story and all our thoughts moved hearts. People across the globe answered and shared her story, offered sympathy and prayers to family and friends and the warmest words they had in their hearts. People around the world have been touched by her system of values and become better, more empathetic. They had a chance to do something. To take action. Even in death, Luana offered us a lesson because God, how many people took a stand! Someone wrote so beautifully: "our love could have saved you, you would have lived forever". I believe this is what is happening…
Luana didn't want to make this Earth poorer with her disappearance, as I said it would happen. This is why she scattered her energy and left some of it in everyone touched by her story. Her dreams remain with us. And we will carry them on. For example, one of them was to plant more trees. In her memory, everyone was called to plant a tree. If you would only know the echo this call received!… From this year there will "Luana" trees in Romania, India, UK, Germany, Norway, Canada, Cambodia … everywhere! If you do not believe me, you please convince yourself visiting this page.
As I said to you a few weeks ago, my gardening skills are about zero. But I wanted to be there for her dream, which is why I looked up for solutions. So I came to discover the initiative Mai Mult Verde, which offers everyone the chance to offer a tree as a gift. For every 10 RON (about 2.3 Euros) donated a sapling is bought. The seedlings are planted in autumn and spring, you can participate in the action of planting them and you will be kept informed about the progress of the seedlings. It's great that initiatives like this exist! I've written to those from Mai Mult Verde about Luana and they promised me they will share her story and dream and that they will plant all the saplings gathered for her in one place. I hope we can build a forest! If you want to contribute to this initiative, it would make me a great joy! Whether you plant a tree in your garden, in the park next to your house or by donating for the purchase of seedlings, using this form.
Luana isn't anymore the 27 years old veterinarian, with a contagious smile and energy able to move mountains. Luana is now a symbol, an idea. And as one of my favorite movie quotes says… "ideas are bullet proof". No matter how oppressive a system is, no matter how much injustice exists, no matter how many are in danger, no matter how unfair it seems everything, from time to time someone like Luana is born, someone who shows us that we have strength, light and good within and that together we can change the Earth in that "better place" that too often we just talk about.
Good-bye, Luana! Thank you for everything, you beautiful girl…