Acesta a fost ultimul film pe care l-am văzut la cinema în 2012. Și bine am făcut, căci mi s-a părut cel mai bun film al anului. Eu nu am citit cartea după care a fost ecranizat, scrisă de David Mitchell, așadar nu mă pot pronunța vizavi de acuratețea firului narativ original, însă intuiția îmi spune că autorul ar fi mulțumit de cum este transmis mesajul său.
Nu o să vă mint È™i o să vă mărturisesc că în primele 40 de minute am fost… confuză. Plastica imaginilor È™i talentul directorului de imagine cred că au fost singurele motive pentru care atenÈ›ia mea nu a scăzut pe parcursul acestor prime minute (da, PRIME minute, căci filmul are peste 3 ore). La un moment dat m-am întors către prietena mea È™i i-am spus, frustrată de ce se întâmplă: "măi… frumoase imagini, da' nu înÈ›eleg unde duce povestea asta… sau CARE E povestea". ImaginaÈ›i-vă că în faÈ›a voastră se rezolvă un puzzle. Și nu dupa metoda clasică de construcÈ›ie în jurul unei prime piese. Nu! Pune o piesă acolo, apoi una random în alt loc È™i tot aÈ™a… până când, la un moment dat, totul converge. AÈ™a e "Cloud Atlas". Și merită fiecare moment iniÈ›ial de frustrare!
Cele 6 povești pe care le urmărim în film vorbesc despre temele pe care omul le are de învățat, despre repetitivitatea greșelilor noastre, despre izbăvirea supremă, despre puterea liberului arbitru, despre coincidențe și despre karmă. Tom Hanks, Hugo Weaving, Jim Broadbent, Halle Berry, Hugh Grant, Susan Sarandon, Jim Sturgess și Doona Bae dau viață unor personaje din 6 timpi diferiți. Fie că ne aflăm pe vremea sclavagismului, fie că suntem în viitorul post-apocaliptic dominat de zei, ce rămân neschimbate sunt natura umană, greșelile la care este predispusă ființa și resursele pe care le are spre a cunoaște izbăvirea.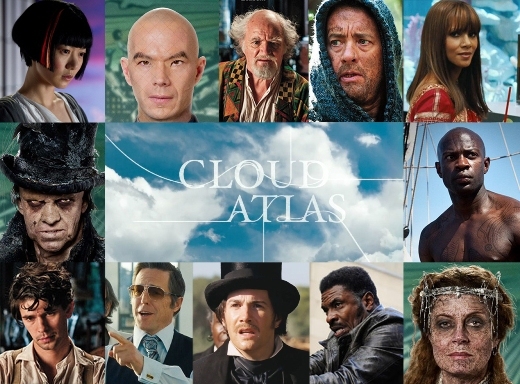 Regia este semnată de frații Wachowski ("Matrix") și Tom Tywer ("Perfume"). După cum nu vă e greu să intuiți, frații Wachowski s-au ocupat de poveștile SF. Una dintre ele este preferata mea, din întreg filmul. Este vorba de cea din jurul lui Somni 451 (care a vrut să fie un omagiu indirect lui "Fahrenheit 451", dar care mie mi-a adus aminte puțin și de "Equilibrium"). Pentru că are în ea din atmosfera "Matrix", pentru că vorbește despre liber arbitru, despre iubire, despre jertfă, despre paradox și nemurire. Aici sunt și replicile care mi-au plăcut cel mai mult din întreg filmul:
"Archivist: What if no one believes you?/ Sonmi-451: Someone already does." (Arhivist: Și dacă nimeni nu o să te creadă?/ Somni 451: Cineva deja mă crede.")
"Somni 451: Truth is singular. Its 'versions' are mistruths." ("Adevărul este unul singur. Versiunile sale sunt neadevăruri.")
(și cea care sintetizează, pentru mine, tot filmul) "Somni 451: Our lives are not our own. From womb to tomb, we are bound to others. Past and present. And by each crime, and every kindness, we birth our future." ("Viețile noastre nu ne aparțin. Din pântec până în pământ suntem legați unii de alții. Trecut și prezent. Și prin fiecare crimă, și prin fiecare gest de bunăvoință, ne naștem viitorul.")
Din punctul meu de vedere, filmul merită văzut și nu doar o dată. Vouă ce impresie v-a făcut? A citit cineva cartea? Cum este, prin comparație?