Feminitate. Zâmbet. Gingăşie. Tulburare. Talent. Unicitate. GraÅ£ie. Acestea sunt cuvintele cu care majoritatea o descriu pe Marilyn Monroe. Acestea sunt cuvintele cu care eu o descriu pe Michelle Williams. Dacă pentru "Shutter Island" şi "Perfum" zâmbisem în stil Joey ("Friends") ÅŸi spusesem "Not bad, not bad", iar pentru "Blue Valentine" expresia mea fusese una de admiraÅ£ie… pentru rolul din "My Week With Marilyn", Michelle ajunge pe un fel de piedestal. Pentru mine.
Multe cronici au spus că prestaÅ£ia actriÅ£ei principale a fost una dezamăgitoare, sub nivelul ei; că nu o întruchipează pe Marilyn cum ar trebui. Păi da… pentru ca fenomenul Marilyn Monroe este unul irepetabil, mult prea greu de reprodus sau mimat. Iar faptul că Michelle NU face asta, ci identifică principalele atribute pentru care o Å£inem minte pe Marilyn ÅŸi ni le arată, dar prin propria perspectivă… o face autentică. O cred. Empatizez cu ea ÅŸi cu drama personajului ei. Pentru că o cred. ÃŽi cred feminitatea, îi simt tulburările interioare, îi trăiesc tumultul, îi aplaud gingăşia. Eu cred că Michelle Williams merita Oscarul pentru acest rol, nu doar o nominalizare.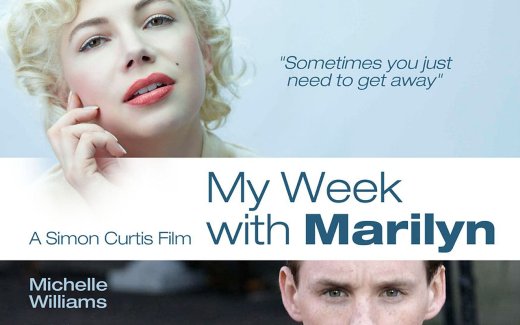 Din păcate eu nu am văzut filmul "PrinÅ£ul ÅŸi dansatoarea", punctul central din "My Week With Marilyn", însă ÅŸtiu că foarte rapid după el a fost lansat "Some Like It Hot", care a devenit unul dintre cele mai emblematice filme ale Hollywood-ului.
"My week with Marylin" pune mult accent pe latura emoÅ£ională a vedetei, nu neapărat pe cea biografică. Aduce o bucată de realitate mai puÅ£in abordată în materialele despre Marilyn Monroe. Este un film care emană multă căldură… Scenaristul Adrian Hodges a plecat de la unul dintre volumele de memorii ale lui Colin Clark (personajul principal masculin din film, interpretat de Eddie Redmayne), publicat în anul 2000. Acesta vorbeÅŸte despre această săptămână unică din viaÅ£a lui, oferind o nouă bucată de puzzle despre sex-simbolul femeilor din întreaga lume. Simon Curtis (care mie nu îmi spune mare lucru) semnează regia.
DeÅŸi am apreciat atmosfera boemă, caldă ÅŸi reconfortantă pe care am simÅ£it-o de-a lungul filmului ÅŸi deÅŸi am savurat fiecare bucăţică din interpretarea dulcei Michelle Williams, trebuie să recunosc că am fost cumva dezamăgită de dialoguri (multe redundante, pleonastice, exagerate) ÅŸi de expoziÅ£iunea evenimentelor (nu toate formau un puzzle logic ÅŸi multe erau prea "in your face" – puÅ£ină subtilitate ÅŸi-ar fi găsit mai bine locul în tabloul zugrăvit de Michelle Williams).
Pe scurt: da, vă recomad să îl vedeţi. Fie şi doar pentru zâmbetul lui Michelle. Marilyn. Secvenţa mea preferată? Cea în care se filmează finalul filmului, în completare cu cea în care Sir Lawrence Olivier (interpretat de Kenneth Branagh) urmăreşte bruturile şi discută cu Colin. A voastră?