Ce frumos È™i pe gustul meu de visătoare incurabilă suna titlul! Ce amuzant È™i, în acelaÈ™i timp, sensibil arată trailer-ul! Ce premise faine are! Ce posibilități extraordinar de complexe pentru expunerea naraÈ›iunii apar la orizont!… Ce dezamăgire am trăit în sala de cinema!…
Ce este "Seeking a friend for the End of The World": dramă, comedie, satiră? Nu È™tiu. Cred că nici măcar regizorul nu È™tie. Care este mesajul cu care trebuie să ieÈ™i din sala de cinema? Nu È™tiu. Cum au fost exploatate resursele premiselor È™i ale distribuÈ›iei? Habar n-am, m-ar interesa să aflu. Cum È™i, mai ales, UNDE? Că în film le-am ratat.
Aflăm încă de la început că un asteroid va lovi Pământul È™i întreaga omenire are la dispoziÈ›ie 3 săptămâni să se resemneze cu situaÈ›ia. ÃŽncepe promițător, cu nuanÈ›e de sarcasm (oamenii îmbracă hainele pe care nu apucaseră să le poarte, își etalează bijuteriile, își arată adevăratele sentimente pentru partenerii de viață, etc.) È™i îți crează senzaÈ›ia că va explora în stil "haz de necaz" natura umană. Nope, nu se întâmplă asta. Nici măcar actorii (Steve Carell È™i Keira Knightley) nu salvează situaÈ›ia. Chimia dintre personajele interpretate de ei nu există, pasiunea e ca dintr-un film cu era glaciară, iar replicile È™i acÈ›iunile lor sunt lipsite de orice condiment cinematografic.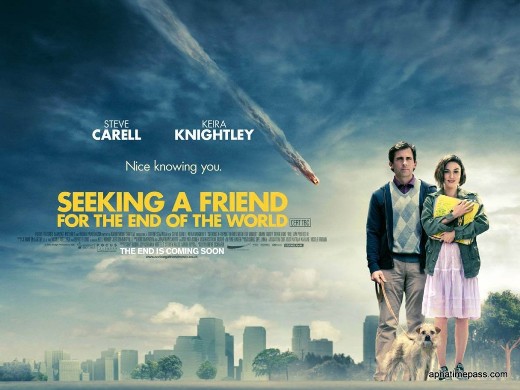 Pot spune că acest film a reușit să mă dezvolte personal. Cum? Mi-a exersat răbdarea, calitate care nu mă reprezintă în mod deosebit. A fost nevoie de o cantitate însemnată pentru a nu ieși înainte de generic din sala de cinema. Nici măcar nu am avut parte de un happy-end, pentru a nu pleca acasă complet frustrată de continua nejustificare a secvențelor. Dacă tot e să fie plin de neverosimilități, păi să fie până la capăt!
Replica la care era să îmi rămână floricica de porumb în gât: "EÈ™ti dragostea vieÈ›ii mele!" Această replică spusă de protagonist lui Penny (în timp ce o urcă într-un avion, în timp ce ea doarme profund, pentru a fi dusă de către tatăl lui, pe care nu îl mai văzuse de 25 de ani, la părinÈ›ii ei – can you follow the stupidity?), cea alături de care a călătorit până mai ieri în căutarea unei alte femei care era iubirea vieÈ›ii lui È™i cu care nu a împărtășit nici măcar un moment intens È™i profund, e ca un fel de pastilă amară, care vine în întâmpinarea unor aÈ™teptări pe care È›i le-ai creat din trailer, dar pe care oricum le-ai uitat de mult.
Dacă vrei să sfidezi cronicile și să mergi să îl vezi, îți sugerez să faci un mic exercițiu de imaginație: dacă ne-am afla în plină Apocalipsă, acest film ar fi două ore din viață pe care nimeni nu ți le va returna.
M-ar interesa dacă se numără printre cititorii mei persoane care l-au văzut? Aveți o altă perspectivă?