Vă povesteam mai demult că mie îmi place să sfidez ziua de luni mergând seara la cinema sau organizând un movie-night. Săptămâna trecută am realizat actul de sfidare la Mall Băneasa, la Grand Cinema Digiplex. Am fost să vedem "Snow White and the Huntsman". De ce, poate vă veÅ£i întreba? 3 motive:
mi s-a părut trailerul interesant
Charlize Theron e una din actriţele mele preferate
am vrut să văd dacă starul "Twilight" (Kristen Stewart) poate să aibă ÅŸi o altă expresie decât cea care reliefează proprietăţile apei (adică inodoră, incoloră, insipidă)
Răspunsurile, pe scurt, ar fi aşa:
trailerul nu e supradimensionat, aşteptările (dacă nu le setezi foarte sus) îţi sunt recompensate
Charlize Theron are un singur acting-mode: BRILIANT
nu, Kristen Stewart nu poate avea mai mult de o singură expresie facială
BONUS: Chris Hemsworth poate puÅ£in mai mult decât a arătat în jaful de "Thor". Desigur, faptul că e bărbat bine rămâne totuÈ™i principalul său atu…
Povestea este, după cum intuiÅ£i, o readaptare modernă a basmului FraÅ£ilor Grimm. Regia o semnează un debutant britanic – Rupert Sanders. Mama vitregă este Regina Ravenna, o puternică ÅŸi malefică vrăjitoare, care seamănă moarte în jurul ei. Fiecare cuvînt rostit de Charlize Theron în acest rol are o încărcătură care îţi lasă fiori pe măduva spinării, făcându-mă să o iubesc ÅŸi mai tare atunci când joacă în roluri negative. Kristen Stewart dă viaţă Albei ca Zăpada, prinÅ£esa care deÅ£ine puterea vieÅ£ii ÅŸi care reuÅŸeÅŸte să fugă la timp din turnul unde era închisă. Ea se refugiază în Pădurea ÃŽntunecată, locul unde forÅ£ele Ravennei nu au nicio putere. Vânătorul este trimis pe urmele ei, între ei se crează o legătură, câteva din cliÅŸeele clasice ÅŸi tot aÅŸa. Pe lângă vânător mai avem un prinÅ£ deloc convingător, niÅŸte pitici simpatici, animăluÅ£e magice ÅŸi un întreg Univers de poveste. Fiecare layer al acestui Univers este bine creat, măcar pentru a-l cunoaÅŸte merită banii plătiÅ£i pe bilet.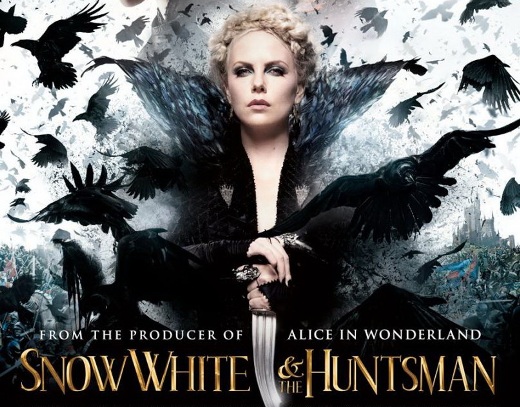 Bătălia finală dintre Ravenna ÅŸi Albă ca Zăpada… meah… undeva de dinaintea ei mi s-a părut că regizorul scapă puÅ£in frâiele din mâini ÅŸi că filmul se duce pe o pantă descendentă. Nu m-a convins de forÅ£a Albei ca Zăpada, precum nici de sfârÅŸitul Reginei. Această ezitare a sa de a merge mai departe, de a fi mai îndrăzneÅ£, a scăzut din valoarea filmului.
Per total: o experienţă interesantă, o reîntâlnire fabuloasă cu Charlize Theron şi una destul de plăcută cu Chris Hemsworth şi un Univers fascinant, creat cu efecte speciale de bun gust. Recomand filmul tuturor celor pasionaţi de poveşti şi magie.
Iar în final, trebuie să întreb: Mirror, mirror on the wall. Who is fairest of them all? 🙂