Vineri seară, pe 4 ianuarie, am fost în Jameson Pub la After Party-ul LSRS, unde de la 22:30 au cântat băieÈ›ii de la BENETONE Cover Band. Cum adică "cine sunt băieÈ›ii de la BENETONE"?! ÃŽmi citiÈ›i blogul È™i nu È™tiÈ›i? Dacă sunteÈ›i È™i fani AC/DC, Bon Jovi, Guns'n Roses È™i ai altor grei ai muzicii rock, chiar că trebuie să aflaÈ›i cine sunt băieÈ›ii de la BENETONE!
Ei sunt Porro (voce), Thomas (tobe), Alex (chitară-bas) și Mircea (chitară-solo) și de mai bine de 2 ani încântă publicul bucureștean (și nu numai) cu coveruri rock de calitate, cu concerte incendiare, de la care pleci electrizat și încărcat de energie pozitivă. V-am mai scris și aici despre ei și despre cum au descoperit "ingredientul secret" al unui artist adevărat.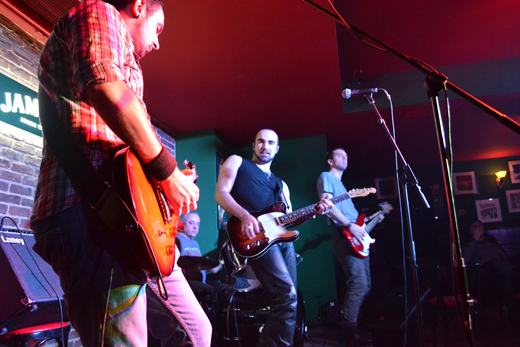 Care au fost pentru mine highlight-urile nopÈ›ii de vineri? Momentul conceperii setlistului (da, la faÈ›a locului) È™i personalizarea sa, în absenÈ›a lui Porro, de către noi cu desene sugestive (nu, nu suntem grupa mică grădiniță… doar avem spirite foarte tinere), invitaÈ›ii speciali care au cântat alături de Porro, la voce (Sebastian – LSRS, Denisa – Jameson Pub È™i DragoÈ™ – trupa Monarchy), aplauzele nestăvilite ale publicului, deschiderile în forță ale celor două sesiuni de concert ("Summer of '69" la prima, "It's my life" la a doua) È™i faptul că aparatul meu foto a decis să nu facă sharf în cele mai importante momente. 🙂
Pe ce am mai cântat È™i dansat vineri, în Jameson Pub? Păi, la un prim inventar îmi vin în minte "Money for Nothing", "Somebody to Love", "Blue Suede Shoes", "Satisfaction", "I want to break free", "Sex on Fire", "Fear of the dark" È™i"Thunderstruck". Restul setlistului va trebui să îl descoperiÈ›i singuri. 😉
Ah, încă ceva… 2013 mă găseÈ™te, printre altele, È™i în postura de PR al trupei BENETONE. GhiciÈ›i care e prima temă pe care vi-o dau? 🙂 Să ne urmăriÈ›i pe pagina de Facebook! Știu, previzibil. O să îi las pe băieÈ›i să vă uimească.